Our caring and compassionate veterinary care team!
We are proud to offer personalized pet care for the residents of Micanopy, Gainesville, Ocala, and the surrounding communities.
Molly Pearson
DVM
Dr. Molly Pearson has been caring for Gainesville area pets since graduating from the University of Florida School of Veterinary Medicine in 1988. During that time, she worked at Gainesville Animal Hospital for 4 years and Magnolia Animal Hospital in Ocala for 8 years. In 2000, she opened her own practice in scenic Micanopy, FL, and has been enjoying the clientele and their animals ever since. Dr. Pearson has a special interest in rabbits, reptiles, and canine reproduction. At home, she lives with 2 dogs, 3 cats, and several tortoises. With ties to both Alachua and Marion counties, she feels strongly about supporting local businesses and looks forward to furthering that relationship with the community and their pets for many years to come.
Kelly Berisha
DVM
Dr. Kelly Berisha moved from Sarasota, FL to Gainesville in 2001 to attend the University of Florida. She earned her undergraduate degree in Animal Sciences with honors in 2004 and graduated from UF veterinary school with honors in 2008. She has practiced in the Gainesville area since that time. Dr. Berisha enjoys all aspects of private practice, but her areas of special interest include dentistry and feline medicine.
She lives in Gainesville with her husband Mark, her two young children, Kol (age 4) and Kira (age 2), as well a pair of sweet old cats (Sissy and Pod Cat). Her favorite things about living in this area are the wide open spaces, the friendly local culture, and being at the heart of the Gator Nation. In her free time she enjoys gardening, traveling to historic cities, local festivals, and doing anything outdoors.
Laura Kotinsley
DVM
Bio Coming Soon…
Marcia Aufmuth
DVM
Bio Coming Soon…
Isis Sánchez
DVM, MS, DACVS, cVMA, Diplomate American College of Veterinary Surgeons
Dr. Sanchez is pleased to perform specialty surgery at Micanopy Animal Hospital. She enjoys all aspects of surgery. Her chief areas of interest are plastics and reconstruction, oncologic surgery, wound management, urologic surgery, and cardio-thoracic surgery. Dr. Sánchez is certified in Veterinary Medical Acupuncture and has extensive training in rehabilitation therapy and therapeutic massage.
Dr. Sánchez enjoys hiking, backpacking, reading, fencing, swimming, and rowing. She has hiked on all the major mountains along the Cascade Range.
Misty Tate
Client Care Manager
Growing up on a farm has given Misty the passion for animals and their welfare. She has since then taken an interest in volunteering with the county shelter and helping out rescue cats and dogs as much as she can. Before coming to MAH a few years ago, Misty attended Santa Fe College, majoring in Animal Sciences. She rescued her own dog named Comet through MAH and she also has a cat named Autumn at home. Misty is a licensed nail technician and esthetician and enjoys doing nails as a creative outlet in her spare time.
Ginny
Client Care Representative 
Bio coming soon…
Lisa
Client Care Representative
Bio coming soon!
Alidia
Client Care Representative
Bio Coming Soon…
Candice Tyson
Head Technician, Fear Free Certified Technician
Originally from Florida, Candice moved into the area to be closer to the University of Florida to attend school. She now resides in Hawthorne with her two dogs (Skillet and Jenna), two cats (Tim and David), and a turtle named Amarillo. Although she does not currently own a horse, she greatly enjoys working with them. Her interests include reading and working with animals, large and small, whether they slither or crawl. In the future, she hopes to pursue a Doctorate of Veterinary Medicine with a specialization in mixed animal practice.
Brittany
Surgery Technician
Bio coming soon!
Victoria
Surgery Technician
Bio coming soon!
April
Surgery Technician
Bio coming soon!
Lori
Surgery Technician
Bio coming soon!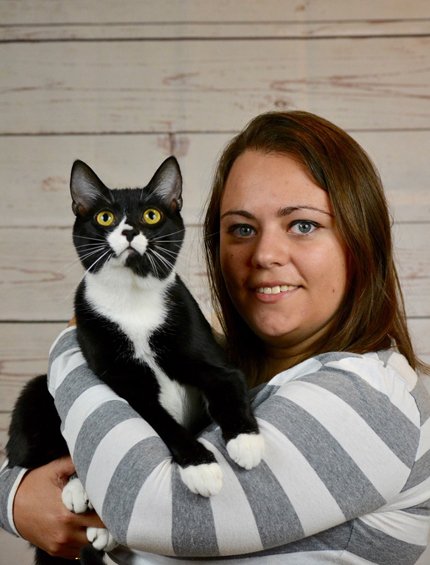 Nicole
Veterinary Technician, Fear Free Certified Professional
Bio coming soon!
Kimberly
Veterinary Technician
Bio coming soon!
Melissa
Veterinary Technician
Bio coming soon!
Kayla
Veterinary Technician
Bio coming soon!
Kim Munoz
Kennel Manager
Kim has many years of experience as a professional kennelman. She has raised AKC White German Shepherds and Registered Rat Terriers. Kim's spare time is spent training and working with a pack of 50 American Foxhounds that she helps to care for as well as kayaking, jewelry making, and painting. She loves being outside and traveling and has had the chance to live in 9 different states. Kim has been working for MAH as our Kennel Manager for over 3 years now and has really taken ownership of making sure that your pets feel like our hospital is their second home. Kim says, "My goal as Kennel Manager is to make sure that every pet that stays here fells safe, secure, and loved while in our care. I take their well-being very seriously just as I do for my own dogs and cats."
Sandralee
Kennel Technician
Bio coming soon!