Our caring and compassionate veterinary care team!
We are proud to offer personalized pet care for the residents of Micanopy, Gainesville, Ocala, and the surrounding communities.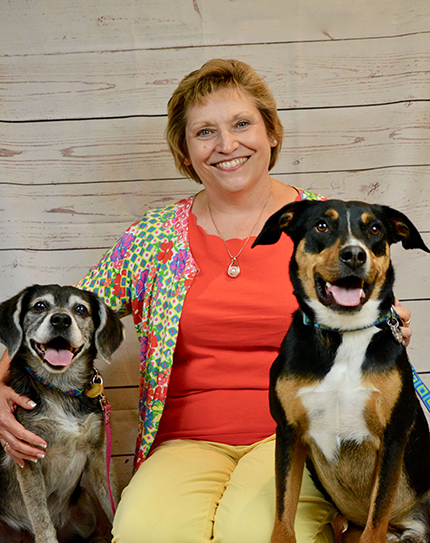 Molly Pearson
DVM
Dr. Molly Pearson has been caring for Gainesville area pets since graduating from the University of Florida School of Veterinary Medicine in 1988. During that time, she worked at Gainesville Animal Hospital for 4 years and Magnolia Animal Hospital in Ocala for 8 years. In 2000, she opened her own practice in scenic Micanopy, FL, and has been enjoying the clientele and their animals ever since. Dr. Pearson has a special interest in rabbits, reptiles, and canine reproduction. At home, she lives with 2 dogs, 3 cats, and several tortoises. With ties to both Alachua and Marion counties, she feels strongly about supporting local businesses and looks forward to furthering that relationship with the community and their pets for many years to come.
Kelly Berisha
DVM
Dr. Kelly Berisha moved from Sarasota, FL to Gainesville in 2001 to attend the University of Florida. She earned her undergraduate degree in Animal Sciences with honors in 2004 and graduated from UF veterinary school with honors in 2008. She has practiced in the Gainesville area since that time. Dr. Berisha enjoys all aspects of private practice, but her areas of special interest include dentistry and feline medicine.
She lives in Gainesville with her husband Mark, her two young children, Kol (age 4) and Kira (age 2), as well a pair of sweet old cats (Sissy and Pod Cat). Her favorite things about living in this area are the wide open spaces, the friendly local culture, and being at the heart of the Gator Nation. In her free time she enjoys gardening, traveling to historic cities, local festivals, and doing anything outdoors.
Laura Kotinsley
DVM
Dr. Kotinsley graduated from the University of Florida's College of Veterinary Medicine in 2011 with a Doctorate in Veterinary Medicine and a Master's Degree in Public Health. She and her husband have two young boys, a rescued Pit Bull named Duffy, and two red footed tortoises. In her spare time, Dr. Kotinsley enjoys crafting, cooking, listening to music, and going to the beach with family and friends.
Marcia Aufmuth
DVM
Dr. Marcia Aufmuth, a resident of Micanopy for over 30 years, graduated with honors from the UF Veterinary School in 1994. She then returned to her home state of Illinois for a yearlong internship in small animal medicine and surgery at the University of Illinois's College of Veterinary Medicine. Returning to Micanopy, she practiced in Ocala where she and Dr. Pearson were associate colleagues. Dr. Marcia happily joined the Micanopy Animal Hospital staff in 2019. She has a special interest in oncology, cytology, and internal medicine.
Marcia and her husband of 35 years, Joe who is currently Micanopy's Mayor, have had many pets that included boa constrictors, ferrets, cats and dogs (many of them at the same time!). Currently they have one pet, an adopted tuxedo kitty named Leo. In their free time they enjoy trips to Disney World, gardening, cooking, and spending time in their pool.
Isis Sánchez
DVM, MS, DACVS, cVMA, Diplomate American College of Veterinary Surgeons
Dr. Sanchez is pleased to perform specialty surgery at Micanopy Animal Hospital. She enjoys all aspects of surgery. Her chief areas of interest are plastics and reconstruction, oncologic surgery, wound management, urologic surgery, and cardio-thoracic surgery. Dr. Sánchez is certified in Veterinary Medical Acupuncture and has extensive training in rehabilitation therapy and therapeutic massage.
Dr. Sánchez enjoys hiking, backpacking, reading, fencing, swimming, and rowing. She has hiked on all the major mountains along the Cascade Range.
Patti Gordon
DVM, Feline Consultations
Dr. Gordon is a 1984 graduate of The University of Florida College of Veterinary Medicine. She has lived in Gainesville since 1975 and has a special interest in feline medicine, bringing over 28 years of experience practicing in the area at a feline exclusive hospital. She and her husband share their love and their lives with six wonderful children, lots of cats, dogs, and various other pets that found them along the way!
She is a member of AVMA, AAFP, Alachua VMA, AAHA, FVMA, AAZV, and UF Alumni Association. She is also a member of a variety of other community and national organizations.
In her spare time, Dr. Gordon's activities involve sports, fitness, animals, reading, and community service.
Misty Colón
Office Manager
Taking care of farm animals in her childhood and having companion animals throughout her life has given Misty the passion for animal welfare. She currently has a cat named Ember Moon that she rescued at home. She has been an employee of MAH for 8 years as of 2021 and is working towards becoming a Certified Veterinary Practice Manager. When Misty isn't taking care of the needs of clients, their pets, and the staff at MAH, she is busy at home as a mother of one toddler. She was a licensed Full Specialist and enjoys doing nails as a creative outlet in her spare time.
"Animals are the bridge between us and the beauty of all that is natural. They show us what's missing in our lives, and how to love ourselves more completely and unconditionally. They connect us back to who we are, and to the purpose of why we're here."
― Trisha McCagh
Ginny
Lead Client Care Representative 
Growing up as a local in Jonesville, Ginny has always had an interest in the wellbeing of animals. She grew up caring for dogs, cats, chickens, parrots, and even had a squirrel to take care of. She came to MAH from a long history of being in law enforcement as a dispatch supervisor. During that time, she volunteered as a rescue foster and was a coordinator for local rescues.
Currently, she has quite the variety of pets at home; mini goats, an aquatic turtle, mini donkeys, 6 chickens, two dogs, two inside cats, and she tends to a colony of feral cats. Needless to say, Ginny loves spending time with her pets during her spare time, but you will also catch her traveling and hiking.
Grace
Client Care Representative
Grace came to work for us after spending most of her life on the other side of the country; California! She was raised on a small farm full of chickens, cats, dogs, and birds. Currently enrolled at Santa Fe pursuing her Animal Sciences AA, she plans on transferring to UF to become a DVM and specialize in marine mammals. Since she has always felt a special connection with all animals large and small, she has decided to take any and all opportunities she can to increase the quality of care they receive – which led her to her role here at MAH! She has a small but spunky Betta Fish named Piggy and a Mini Dachshund named Oslo. When you do not see her at MAH multitasking at the front desk to save lives and educate clients, she is volunteering at rescues or going to the beach.
Laura
Client Care Representative
Laura has a background studying in Psychology and Zoo Animal Technology. Before working with us at MAH, she worked with large animals. She has a special recreational interest in birding and has participated with the Audubon Society and other clubs tracking/monitoring native and migratory species, documenting their behaviors and locations. At home she has two rabbits – a Mini Rex named Margo and a French Lop named Beanjamin. She has gained two more family members while working with us; a bearded dragon named Rex and a cat named Parker! When she is not making sure clients and their pets are fully accommodated at MAH, she is spending time with friends and family, hiking, biking, or painting. She also favors visiting the nesting sites of Bald Eagles in Hawthorne and Melrose.
Tiffany
Client Care Representative
Born and raised in Connecticut, Tiffany came to MAH with a background of volunteering her time in animal rescue. Her family also took in rescues as she was growing up, which gave her the passion for animal care! At home she has one cat named Kitty-Kitty, two dogs named Bea and Topper, along with a bunny named Thumper. When she is not at MAH helping the front desk, she is in the craft room being creative as a third-generation crafter.
Candice Tyson
Head Technician, Fear Free Certified Technician
Originally from Florida, Candice moved into the area to be closer to the University of Florida to attend school. She now resides in Hawthorne with her two dogs (Skillet and Jenna), two cats (Tim and David), and a turtle named Amarillo. Although she does not currently own a horse, she greatly enjoys working with them. Her interests include reading and working with animals, large and small, whether they slither or crawl. In the future, she hopes to pursue a Doctorate of Veterinary Medicine with a specialization in mixed animal practice.
Victoria
Surgery Technician
Before Victoria came to MAH she lived in Colorado for 10 years, graduating from Colorado State University with a Bachelor's Degree in Wildlife and Conservation Biology. She knew since growing up in California and going to the World Famous San Diego Zoo that she wanted to be involved in animal welfare as a profession. She has three cats; one named Anya adopted through MAH, Khola and Edmund. She also has a Crested Gecko named Stubbs and is a foster mom of kittens. When Victoria is not at MAH helping with surgeries or exam room visits, she is enjoying her spare time singing, listening to music, reading, continuing to go to zoos and furthering her education at museums.
Lori
Lead Surgery Technician
Before joining our team, Lori had a background in canine rehabilitation with knowledge in animal surgery and anesthesia. She has become one of our expert Surgery Technicians, connecting and caring for our patients as she has done throughout her life with other animals. She has a farm at home with three horses, two dogs, eight cats, seven chickens, and two goats. She enjoys volunteering at horse shows while watching her daughter compete, and you will also catch her riding horses to relax when she is not at MAH comforting patients out of surgery.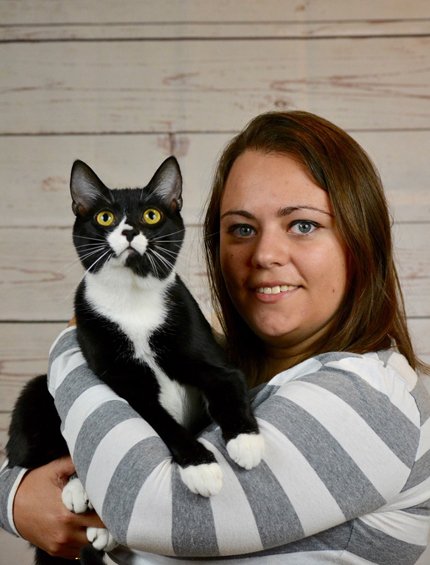 Nicole
Veterinary Technician, Fear Free Certified Professional
Nicole moved to Florida from New York before High School. She attended UF where she studied Animal Sciences and grew a passion for Veterinary Medicine, eventually wanting to become a Certified Veterinary Technician. She is currently attending St. Petersburg College to become certified! She has always been connected with animals because of their innocence and unconditional love. She has a soft spot for black cats and currently has five at home. When she is not studying or at MAH cuddling patients and helping doctors in exam rooms, she is spending time outside hiking, bike riding, swimming, horseback riding, or baking in the kitchen.
Emily
Veterinary Technician
Emily is a Florida native. She received her B.S. in Animal Biology from the University of Florida. She believes what all of us at MAH do – pets give unconditional love, and we are to be their voice and give that love back in return. This is why she's come to MAH to help as many pets as she can. She has a cat named Cotton, a rabbit named Bambi, and a rat named Gideon at home. When she is not on a mission to help pets and educate clients about pet care here at MAH, she enjoys painting, piano, and reading.
Elizabeth
Veterinary Technician
Elizabeth is from Michigan. Before coming to work at MAH, she spent 13 years as a Research Biologist. She worked with shelters and helped with behavior training for almost 10 years. She is passionate about being a part of caring for animals because of their incredible intelligence, and she admires their resilience. She has a dog named Daisy at home that closely resembles a Dingo!  When she is not at MAH strengthening the bond between clients and their pets, she is at home reading, swimming, practicing photography, or seeing clients as a LMT.
Stephanie
Veterinary Technician
Stephanie relocated from southern Florida to Gainesville three years ago to attend college and is currently enrolled at the University of Florida. She is earning her Bachelor's Degree in Animal Science. Prior to working at our hospital, she volunteered at animal care and rescue facilities and was employed at a dog daycare. She believes it is important to nurture and care for all life forms, especially those that are as innocent as animals! At home she has a Tabby cat named Presley and a Betta fish. When she is not assisting the doctors at MAH, she is at the springs or going on walks to enjoy nature.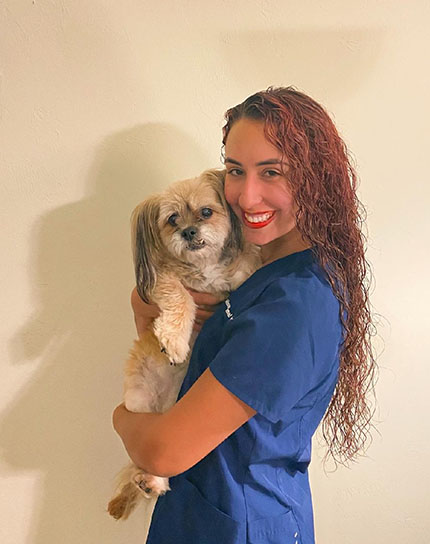 Keyla
Veterinary Technician
Keyla is a Zoology and Marine Science dual major at the University of Florida. Being in a magnet program for Marine Science in Middle and High School in South Florida brought her here to Gainesville to continue her marine studies for College. When she was a child, she knew that her purpose in life would be to help animals by showing others their magnificence, strengths, and beauty. She believes by showing this, animals will be cherished and respected. She appreciates how animals unconditionally love and enjoy the simple things in life. At home, she has a cat named Atnika and a Lhasa Apso pup named Zoey.  She loves to enjoy nature by going to the parks, travel to the springs or beach, and go stargazing. She is an environmental activist and has co-founded an environmental organization with her sister called Plastic Free Mermaids.
Lindsey
Veterinary Technician
Lindsey joined our team as a Certified Veterinary Assistant with experience working professionally in small animal medicine. She is currently furthering her education by earning her degree in Veterinary Technology. She has always enjoyed companionship from animals throughout her life and wants to help our client's pets stay healthy and happy for their families to enjoy their companionship, too! She has three cats, two dogs, one horse, and one donkey at home. When she is not taking care of the patients here at MAH and her own pets, she likes to read and draw in her spare time.
Sandralee
Kennel Technician
Sandralee grew up in Naples, Florida. She had to take care of a variety of animals from horses, cows, dogs, and cats. She knew that having a career in Veterinary Medicine was her passion because of her upbringing with the nurturing of animals. Currently she has a cat named Simba and two dogs; Reba and Belle. She also has one horse named Grace! When she is not at MAH taking care of boarding pets at the clinic, she likes to paddleboard, swim and spend time outside with her pets or in nature.
Laramie
Kennel Technician
Laramie joined our team after recently moving to Gainesville and volunteering with us. She feels being in Vet Med gives her a voice to speak for animals since they can't speak for themselves. She has a cat named Shilo at home. When she is not at MAH making all the boarding dogs and cats feel at home here, she is reading, gardening, or listening to music.
Emma
Kennel Technician
Emma received her Bachelor's Degree in Animal Science at the University of Florida. She has volunteered and professionally cared for animals from dogs and cats to horses and lemurs! She feels the special bond between a human and their pet lasts a lifetime and she appreciates the unconditional love pets give. Her goal is to maintain that special bond for our clients. When she is not with our boarders at MAH, she is at home playing instruments, hiking, doing Pilates or yoga, and reading.